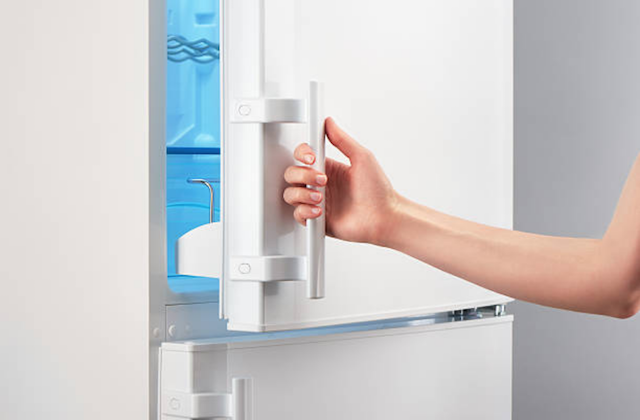 A refrigerator is the essential part of a kitchen. All the produce or meat is kept in the fridge for preservation. If a refrigerator does not work correctly, all the food inside it will go wrong. Hence faulty refrigerators need to be looked at as soon as possible. Your best bet will be to hire a repair company that provides same day repair.
Therefore look no further. Heritage Wilton Appliance Repair is happy to be of help. Common refrigerator faults and problems are promptly corrected without missing a day in between to ensure all your food stays fresh, and you do not have to throw anything out.
REFRIGERATOR PROBLEMS
LOUD/CONSTANT NOISES
This is the most common problem faced by households. It may be due to damaged fans and motors in the appliance. It would be great if you could point out where the noise is coming from so that our technicians can carry with them all the required tools and parts.
WATER LEAKS
This can be repaired easily on our first visit thanks to having the right tools and equipment in our van and also because of the expertise of our repairmen. Valves and latches need to be corrected to avoid this problem.
WON'T START
Once you have ensured that the appliance is correctly connected to an outlet and that all the circuit breakers are in the on state, if the device still will not turn on, then the refrigerator needs to be checked. Generally, there are two cases when a fridge won't start. The first is due to a break in the compressor and the second is if there is a malfunction of temperature control.
ICE MAKER WON'T MAKE ICE
What use is an ice maker if it cannot even make ice. Do not worry however as it can be fixed quite easily. It might not work correctly due to a break in the water entry pipe or due to some problem with the temperature in the freezer. We can also fix ice cubes which are smelly or take too long to form.
FRIDGE TOO COLD/TOO WARM
A broken refrigerator generally always has a temperature problem. It may either be too hot or too cold based on which of the parts stopped functioning correctly. Thermistor and input air damper are some parts which commonly cause this problem. Thankfully for you, we can fix these problems in no time for almost all refrigerators irrespective of make and model.
BROKEN WATER DISPENSER
This is a rare condition. It occurs if the input water valve or dispenser actuator is faulty or broken. However, this can also be fixed as we have parts and equipment to repair this problem for almost all brands like GE, Whirlpool, Sears among others.
DOOR LATCH/BULB PROBLEMS
A faulty or broken door latch is a huge problem. Many other issues like condensation may arise due to this. The gaskets and hinges may be repaired swiftly to ensure that issues like a decrease in temperature do not occur. Bulbs can also be replaced quite promptly for all refrigerators.